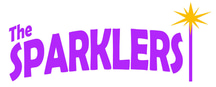 Offer a truly unique activity with a major WOW factor to your event. Kids are far more engaged and proud of a thing they had a hand in making.
If yours is an organization, this is a powerful way to share your message. Participants will wear your brand with pride long after your event has passed.
This package includes an instructor, heat-setter assistant, shirts, silkscreen ink and tools.
Please see our Easy Templates below. Standard Easy Template silkscreen production is a flat $45. However if you prefer an original design this is also possible and will include an additional fee ($50/hr is my design rate). Original designs can take anywhere from 3 to 10 hours to render.
*Please Note: this service requires creation of a silkscreen and ordering blank shirts. Please reserve at least one month before your event.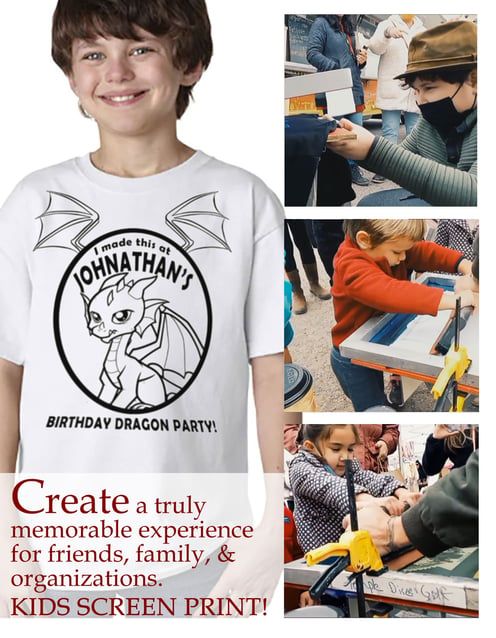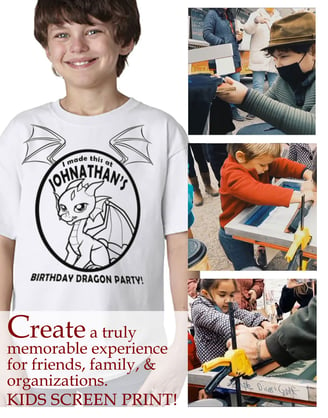 Is Screen Printing right for your event?
Here are some logistics:
We can guide kids through screen printing (12 - 15 shirts/hour).
Clint, our instructor's rate is $100/hr (min. 2hrs). He can also Balloon Twist if time allows.
An assistant artist is required to wash screens and heat set shirts. Each artist is $100/hr (min. 2hrs). Or you can opt to provide a volunteer (adults only please, as heat setting is extremely hot).
Shirts need to be ordered in advance with an estimate of number and sizes.
Screen creation is $45 using one of our "Easy Templates" (please see below) or you can provide your own design.